The port of San Basilio in Venice is a small passenger terminal and is separated from the terminal, where large cruisers berth in this city. The advantage of this terminal is that it is significantly closer to St. Mark's square and gives passengers quick access to the city center. It is the only port where passengers, besides embarking in a safe berth, do not stand in the sun and the enjoy the possibility of using toilettes.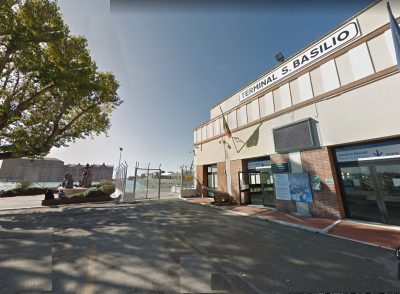 How to get from the port to the city center?
All passengers can purchase a ticket to St. Mark's square while sailing from one of the Istrian ports to Venice. which is more than just a transfer. It is a guided tour of the Jewish Canal, where you can hear a lot of interesting buildings and thus obtain a good introduction to the city.
From the port to St. Mark's square one can also walk alone or be escorted by one of the guides. As soon as all the excursionists cross the border, the group will  set off on a 40-minute walk from the port to the center. We would like to mention that this walk is a brisk one and without stops.
Warning about an error on Google maps!
On the maps, Google mistakenly marks the point from which the catamarans depart direction Piran, Umag, Poreč, Rovinj and Pula. Notwithstanding the fact that we have already written to Google and alerted them to this error, the error persists and passengers often get lost and miss the catamarans' departures. Unfortunately Google remains deaf to the facts, so we ask all passengers to follow our instructions and not to refer blindly to what it says on other pages.