The catamaran Prince of Venice is probably one of the most impromt and interesting ships anywhere. It connects Poreč with Venice in summer season at a crusting speed of up to 25 knots, which means it takes 2 hours and 15 minutes to cross the Adriatic to the entrance to the Venetian lagoonin addition to about 1 hour of slow sailing through the lagoon to the port. The catamaran has a distinctive snout in the front between the two hulls, which cuts the waves and prevents the front of the vessel from sinking into the water in case of rough seas. Is the type of vessel Wave Piercer Catamaran.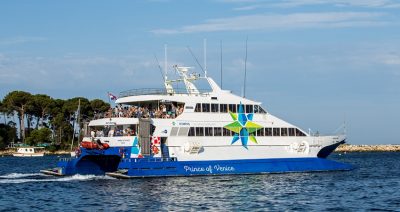 Engines: 2x MTU 16V series 2000

Type of vessel: HSC (high speed craft)
– Wave piercer catamaran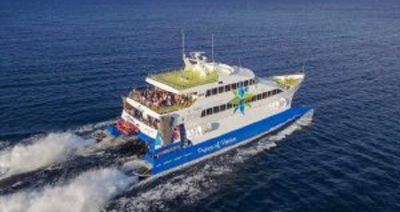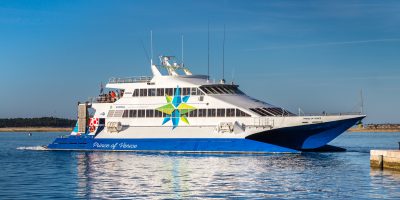 Prince of Venice Catamaran's Lower Deck
The lower, main deck is equipped with a well-stocked bar and accommodates up to 180 passengers. In the back of the catamaran, on the open part of the vessel are male and female toilettes. Seating: 4 rows of 4 seats. There's a small coffee table on the back of each seat.
All seats on the catamaran face the direction of sailing.
Upper Catamaran Lounge Prince of Venice
The upper lounge is located behind the bridge and accommodates up to 120 passengers. It is easily reachable via a wide staircase and the bar in the lower slaon is easily accessible.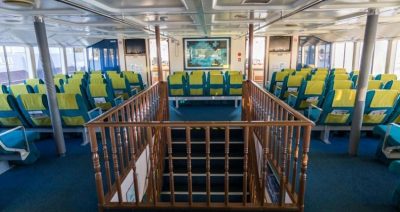 Outer deck of the Prince of Venice catamaran
Behind the upper catamaran lounge there is also an open deck, where passengers can enjoy the view and at the same time is the only place on the catamaran where smoking is allowed.