Every day of our lives is precious, and it matters how and in whose company we spend it. The most beautiful city in the world deserves to be presented in all its glory. Venice is not declared a pearl on the north coast of the Adriatic Sea for no reason.
The city was the home to the greatest lover of all time… For centuries, it has been the center of trade routes… today, it is the greatest concentration of culture, architecture and history on the planet… and therefore annually visited by over 30 million tourists.
… It's important to make the most of every minute in such a beautiful city to experience the pulse of life…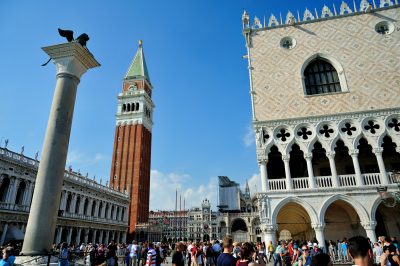 That's why the Venice.si team has been working since 2009 to organise the trips the way the CITY deserves to be presented.
Venice is the only city in the world where pigeons walk and lions fly…
Description of the daytrip to Venice
Take a memorable day trip to Venice from the selected Slovenian or Croatian port
A comfortable voyage to the most beautiful water city in the world will be used for a brief presentation of the rich history and, immediately upon arrival in Venice, we will explore the sights of this one-time city.
Sailings to Venice are possible from different cities in Istria as stated below. From some of them we offer bus transfers to various ports of departure (in that case there is a BUS sign next to the name), from the most important ones we offer direct departures.
Bus transfer to port of departure

Directly by ship to Venice