In Piran, the harbour from where the ferries depart to Venice and arive from Venice is located in the very centre of the city. The border crossing is at the end of the longest pier, by the red lighthouse. Since Piran is an old town, the cars in it are not welcome. We recommend that all our passengers leave their vehicle in one of the garages and then take a free bus or walk to the port.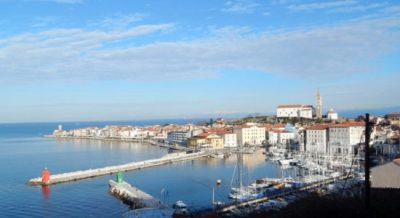 Cars are permitted to enter Piran, but staying longer than 15 minutes is subject to a fee of 3 € per commenced hour (July and August only the first 3 minutes are free, then each hour costs €5). Parking is not possible in the city, admission is meant for delivery only. We strongly advise you NOT to attempt to park in Piran, but in one of the of the garages as fines are dear. Do not let a parking fine ruin your Venice experience.
If you are staying in one of the hotels on the Slovenian coast, use our free of charge transfer service between the follwing cities and Piran. When making the booking, just select the pick up point closest to your hotel. If you already booked and forgot to add the transfer, just drop us an email and we'll take care of it.
We organise transfers from the following cities and resorts:
Park house Amfora is located under Bernardin Hill in front of Piran.
Parking in this garage is the most comfortable because it is connected to Tartini Square by free bus. The bus runs every 15 minutes and saves you a morning walk to the catamaran. Once you park your car, do not forget to take your parking ticket with you as you will need it to enter the building in the evening when you return. The entrance/exit for pedestrians is on the lowest floor – that is also where the bus stop for the free of charge shuttle bus to the ship departs from every 15 minutes.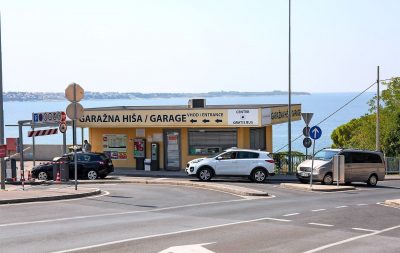 The Arze parking garage is located next to the town cemetery outside the city walls.
Parking in this garage is cheaper, but it requires a little more goodwill from you, as a 10-minute walk to the port awaits you. With parking close to the city walls, the morning descent is easier than an evening walk up a steep hill. The garage is a fairly new one, but it was built without taking larger cars in mind, so if you have a big car… clean your mirrors and take your time. The walls of the garage have no mercy on the paint of your car.