The Ponte Accademia connects the Sestier of St. Mark's (near The Church of San Vitale) and the Academy of Art. The original bridge was only built in the 19th century out of metal and replaced by today's in the 20th century as a temporary, it is one of 4 bridges on the Canale Grande.
From 15th century the Venetian Senate considered building more bridges over the Canale Grande, but there was more resistance to supporting this idea, probably in order to preserve the romantic appearance of Venice and maximise the connection of the city with water.
It was only when Venice fell under foreign rule that newcomers, uneasy by boat transport, began to build other bridges. Thus, in this place, at the Academy of Fine Arts (after which the bridge also bears the name), the Austrians entrusted the construction of their iron bridge expert, Alfred Neville, who in 1854, designed a bridge with 23 stairs, completely leveled out and only 4 m above the water level of the Canale Grande. Thus, the second bridge over the Canale Grande was created and the first in Italy using the "Neville" method, originally called Ponte della Carita.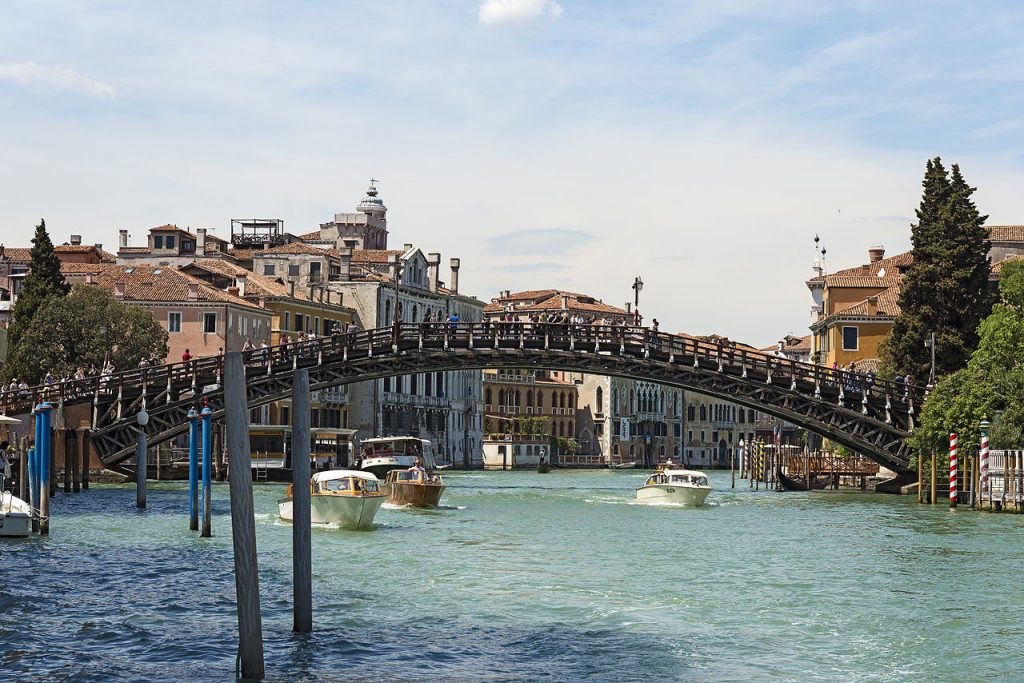 For a long time, venetians were distracted by the height of this bridge, especially in the event of an "acqua alti" or a flood when it could not be passed by slightly larger boats under the bridge. In the end, they decided to call a competition for a new, stone bridge, which would have a more friendly, Venetian look. Because the iron bridge was completely rusty and dangerous and in need of refurbishment, they decided to take it down and erect a temporary, wooden bridge in its place until they selected the final version of the bridge with the competition.
The temporary and make-up bridge was built in 1933 by eugenio Miozzi (he also built a third bridge over canale grande, Ponte degli Scalzi), significantly taller than the original Austrian bridge. In any case, he also envisaged the possibility of rebuilding the bridge on a piece-by-piece way so that there would be no need to close all traffic of people across the Canale Grande. The "temporary" bridge still stands today in the same place, rebuilt several times and completely reconstructed in 1983-84. It is also the only wooden bridge in the central part of Venice.