The San Pawl catamaran is one of the fastest catamarans on the Adriatic Sea. During the summer season, the vessel connects Rovinj, Poreč, Pula (in Croatia) and Piran (Slovenia) on a daily basis with Venice with a crusing speed of up to 35 knots. The catamaran has an aircushion between the two hulls, which inflates and displaces water while sailing on the open sea. It is an ACC type (air cushion catamaran), which allows it to achieve significantly better speeds with the same engine power with greater comfort for passengers.
The catamaran has an outer deck, accessible to passengers accomodated in the VIP section of the vessel during slow sailing through the lagoon in Venice (past St. Mark's square).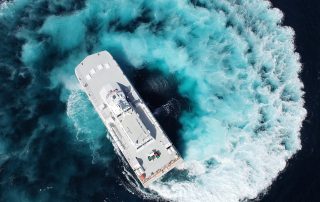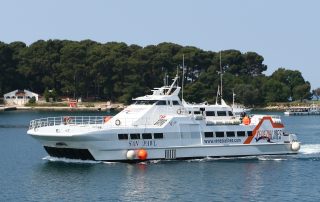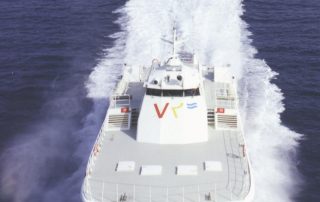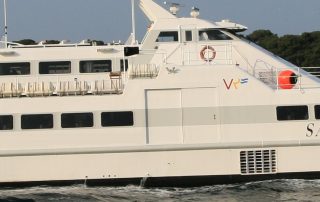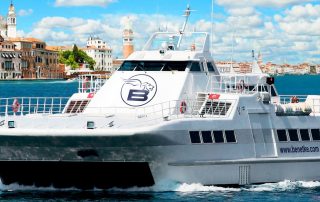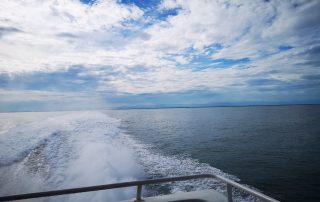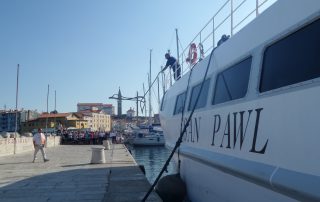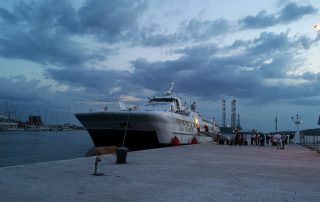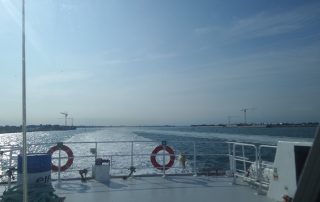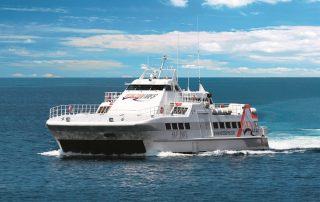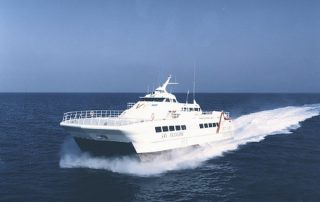 Draught:
– 2.15 m on its hull
– 0.70 on the cushion
Capacity: 320 persons
– Tourist class: 285 seats
– VIP lounge: 35 seats

Engines: 2x MWM TBD 604B V16X

Type of vessel: HSC (high speed craft)
– SURFACE EFFECT SHIP (SES)
San Pawl Catamaran Tourist Class
The lower, main part of the catamaran is separated by a well-stocked bar between the front and rear lounge. In the back of the catamaran are separate male and female toilets. Seating: 4 rows of 4 seats. There's a small coffee table on the back of each seat. The lower lounge, or tourist class is divided into the front and back of the catamaran. They are separated by a staircase to the upper VIP lounge and bar.
All seats on the catamaran face the direction of sailing.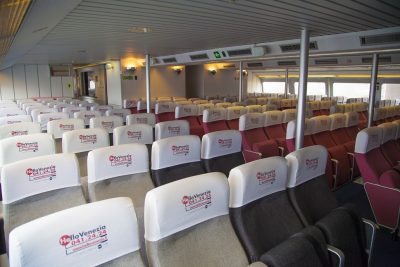 VIP catamaran Lounge San Pawl
The upstairs lounge is designed for those passengers who want more space and privacy while travelling. Leather seats, booths and club tables are basic equipment. Drinks and snacks will be served by a friendly attendant.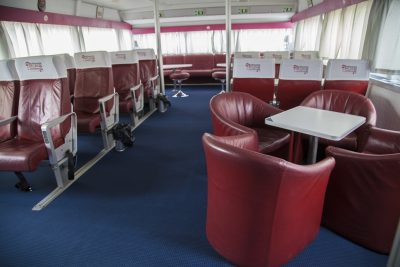 The clip dates back to 1989, when the first catamaran of its kind was made. The film is of poor quality, but it shows how the aircushion softens the ride, the effect of the waves and thus increases comfort of the  passengers compared to a classical catamaran.
The short film was shot on the last trip when the San Frangisk catamaran (sister ship San Pawl) left Piran for Venice in 2019.